A.A FREIGHTLINE LOGISTICS – CYPRUS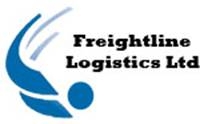 A.A Freightline Logistics LTD is an agent company in Cyprus with over 20 years experience. As an International Freight Forwarding Company located in Limassol City can offer expert services to ports and airports to any part of the Island with immediate access to a vast transportation network including air, ocean and ground.
A.A Freightline Logistics Ltd.
5 AEPIAS STREET
KATHOLIKI 3021
LIMASSOL – CYPURS
Tel: +357.25.336628
Fax: +357.25.336648